Android by Google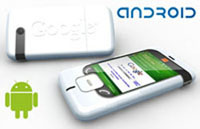 Android is an open - source platform backed by Google, alongside major hardware and software manufacturers that form the OHA. Android is a software stack for mobile devices that includes an operating system, middleware and key applications. The first android phone was the HTC Dream, branded by T- Mobile. Android supports the execution of native applications and a pre-emptive multitasking capability. Third party free and paid apps are available for download via Google Play, which was once called as Android Market.
The middleware consists of integration with Google's self applications, such as Contacts, Calendar, Maps and a full HTML web browser. The biggest advantage of Android is that, it is adaptable to larger, VGA, 2D Graphics Library, 3D Graphics library and traditional Smartphone layouts. For data storage purposes, a lightweight Relational database is used. Android supports almost all connectivity technologies including GSM/ EDGE, CDMA, Bluetooth, WI-Fi and WiMAX. It supports the traditional SMS, MMS and also the latest Android Google Cloud Messaging, which is a push messaging service. Android is Multilingual and it supports more than 30 languages. M
Most of the android applications are written in Java but it does not need Java Virtual Machine for that and also it does not execute Java byte code. Android supports Google chrome web browser, thus providing a safe browsing experience to the users. Touch interfacing is available in smart phones and android supports multi- touch interface. Multitasking is at its best in android. It does multitasking in an efficient manner with unique handling of memory allocation. Android supports a large variety of hardware devices like video cameras, GPS, Accelerometers, barometers, touchscreen, barometers, magnetometers, thermometers, and proximity and pressure sensors. Android supports flash streaming and dynamic streaming and is done using RealPlayer and Flash Plug-in. Android is the most widely used mobile platform at present.