Dress up your iPhone in Crystals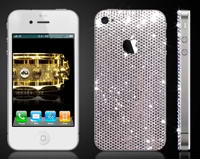 Owning a stunning set of iPhone not only enhances your ego quotient but also signifies your mighty sense for style. It is also a reflection of who you are. That's why it's fitting Gilty has now launched its new collection of extraordinary iPhone cases, that are sure to add to your iPhone's spectacular appearance. Specially designed and crafted for Apple's iPhone, the collection is customised to fit different lifestyles. It's time to rejoice; as this new collection not only provides that genuine look you are dying for, but also ensures your beloved iPhone is well protected.
The new cases come adorned with a 14k gold- and silver bezel facelift with pink Swarovski crystals. The inlayed jewels grant your iPhone as much prestige and elegance as a Swarovski Donna Karan (DKNY) NY3430 ladies wristwatch. The elegant combination of colours and crystals provides an opulent attitude for your iPhone that is bound to help you establish yourself as the connoisseur of both fashion and technology. One of the case's greatest assets is how unobtrusive it is, and how it allows you to manage your iPhone with great ease. Moreover, the interior of each case and bezel is lined with soft EVA foam, which, with it's inherent shock-absorbing ability, protects the iPhone from accidental drops and dings.
To add to all the above features each Gilty Couture bezel arrives in an attractive signature Wardrobe Box with real cool looks. There is also a micropolish cleaning pouch with super-soft micro fibre, which will enable you to keep your bezels and iPhone in great shape.