Mobile marketing
Mobile marketing is done via mobile phones either as SMS messages, MMS messages or also by other mobile devices. The use of mobile phones has increased dramatically in the last couple of years and as a result, the advertisers have started using this change as a part of their revenue increasing campaigns.
Since, the use of computers and internet is very less compared to mobile phones, the mobile marketing is increasing every day. But certain countries have formulated many rules on the number of messages that can be sent to a particular subscriber for a day. There are various forms of displaying advertisements to the users and the most common form is short messaging service.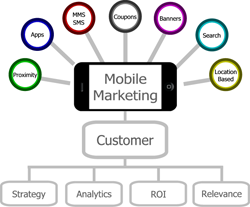 The advertisers send the product or service related information as messages to the subscribers. Since SMS can be read and accessed by billions of people, this form of advertising is getting more popular. Moreover, the time for SMS to reach the customers is usually less than 5 minutes and hence they are so instant for the advertisers to share their information with millions of subscribers. Apart from SMS, the other forms of mobile marketing are MMS, mobile game advertising, full screen advertisements etc. In MMS advertising, the ads are described as videos and images and sent to users as MMS.
There are many mobile games which are popular among users and the ads are included in the games as well. The mobile browsers can be used to display ads and related services at the top and bottom of the pages. Apart from these, ads are also displayed in the mobile screen when the users open a third party application. The application takes some time to open and the interval is used by the advertisers to show full screen ads.
There are certain guidelines to be followed by the advertising agencies but because of the increase in number of ads and services, it is difficult for the organizations to check whether the guidelines are followed. In the recent times, the banners that display advertisements come with expandable space for the users to send their messages to the advertisers. The extra space can also be used to display videos or games related to the advertisement so that it is interactive and innovative to the users. Leaving apart the risk of privacy concerns, the mobile marketing is one of the best in the business.